Fall Semester 2019
————— ————— ————— ————— ————— ————— ————— ————— ————— ————— ————— ————— ————— ————— ————— ————— ————— ————— ————— ————— ————— ————— ————— ————— ————— ————— ————— ————— ————— ————— ————— ————— ————— ————— ————— ————— ————— ————— ————— ————— ————— —————
DES // 510 —— Advanced Design 1

DES // 500 —— Combined Studio
DES // 520 —— Reading, Writing, Publishing
DES // 501 —— Research Seminar 1
————— ————— ————— ————— ————— ————— ————— ————— ————— ————— ————— ————— ————— ————— ————— ————— ————— ————— ————— ————— ————— ————— ————— ————— ————— ————— ————— ————— ————— ————— ————— ————— ————— ————— ————— ————— ————— ————— ————— ————— ————— —————


Workshop 1 // Letter

Compositions composed by zooming in on portions of a letterform in a 3x3 grid with the goal of examining the features of a typeface. Sporting Grotesque by Velvetyne Type.
Project 1 // Information Design
For this project, I chose to catalog my record collection with infographics breaking down genre, label location and artist location. The 120 minute cassette contains :48 from each of the 150 records represented at time of design. 2-color risograph print on yellow copy paper.
Workshop 2 // Word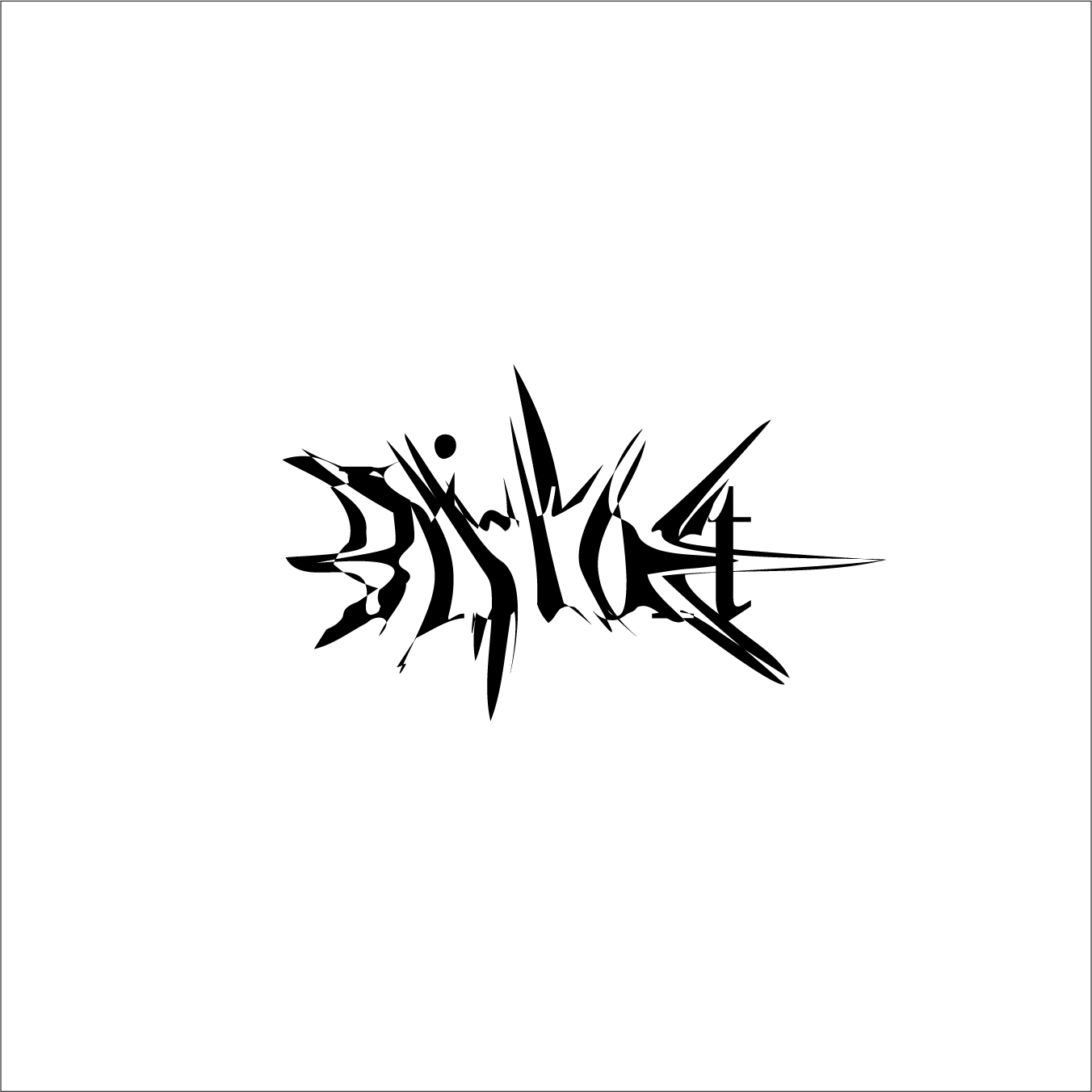 Explorations in manipulation of a word through layout or otherwise that express or evoke the meaning of the chosen word. It is hard to tell, but the typeface used here is Messer Version 1.4 by Inga Plönnigs released on
Future Fonts
.
Project 2 // Experimental Design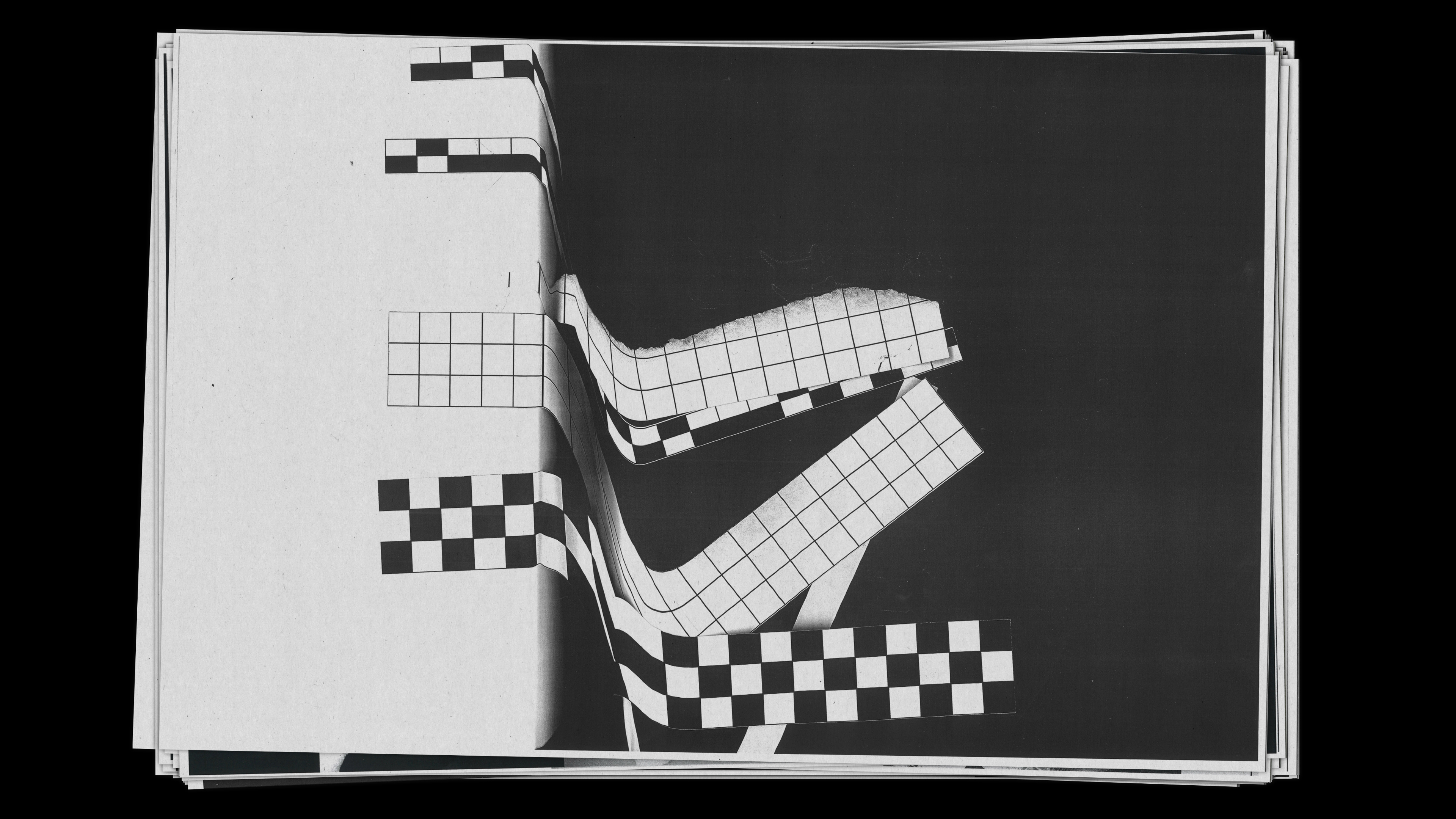 We were tasked to create without any sort of specific content. I chose to compose layouts using only the scanner bed and found/printed imagery. I also used things like grease markers and oil pastels. Out of a few hundred overall compositions, about 1/3-1/2 of the compositions are shown here to keep as an archive. These compostions were ultimately bound into books in random order and sold at the 2019 Chicago Art Book fair as an edition of 10.
Workshop 3 // Passage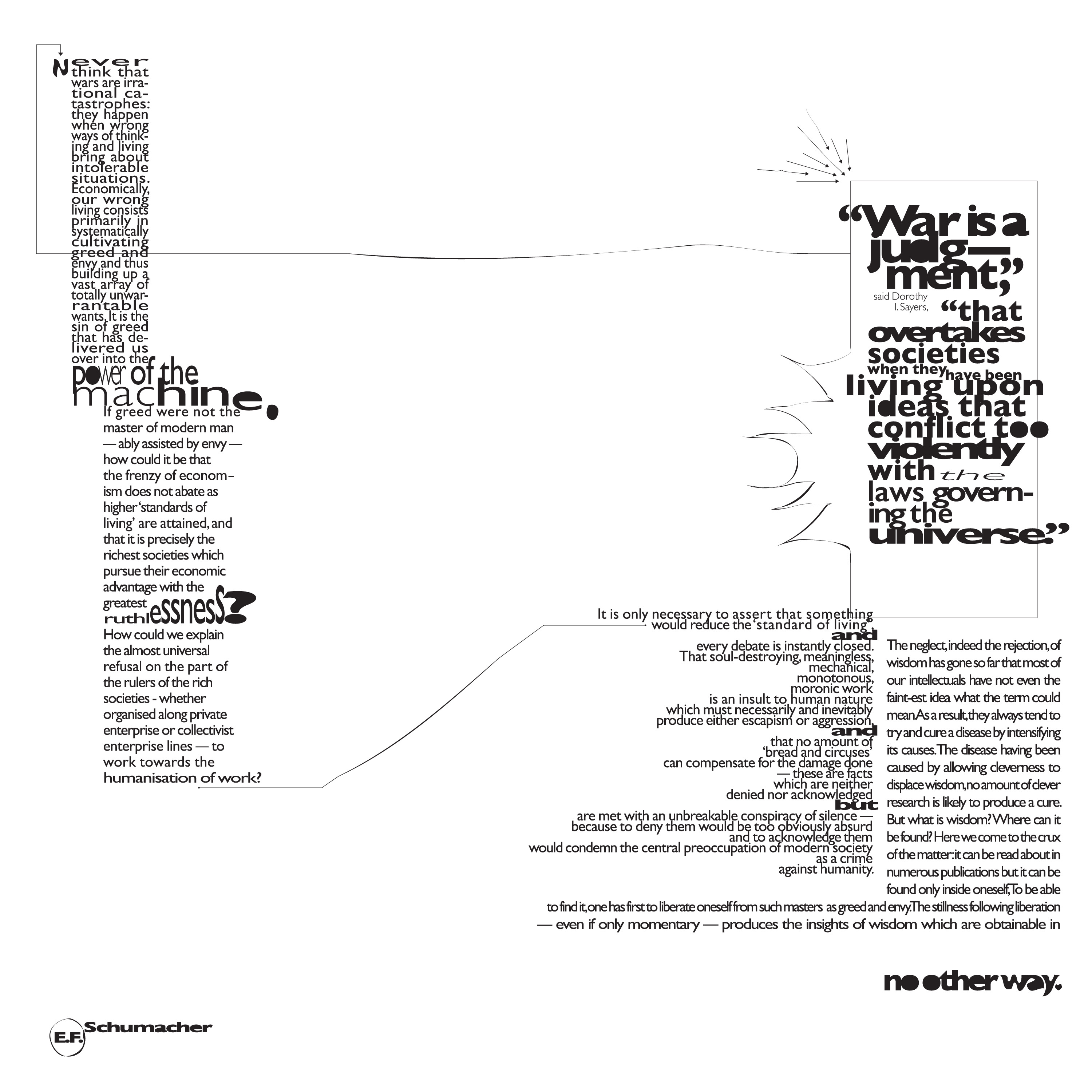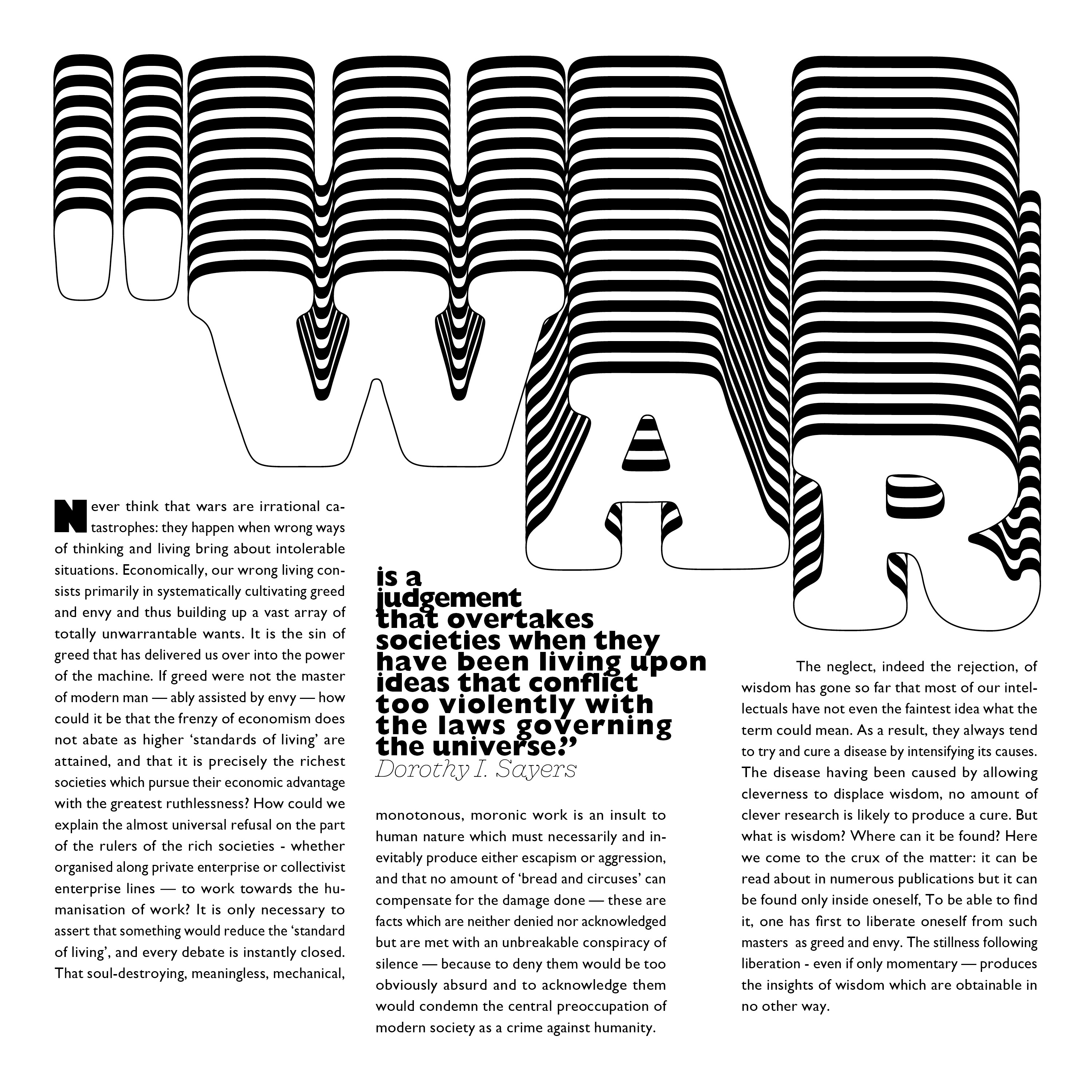 Explorations in setting both lines and passages, we were given the task of selecting a text (this is a passage from E.F. Schumacher's Small is Beautiful) and then typesetting it in neutral and expressive ways (shown here). Type shown here is Gill Sans as well as Gooper by Very Cool Studio released on
Future Fonts
, both chosen because they are a reflection of the time in which this text was originally released.
Project 3 // Discursive Design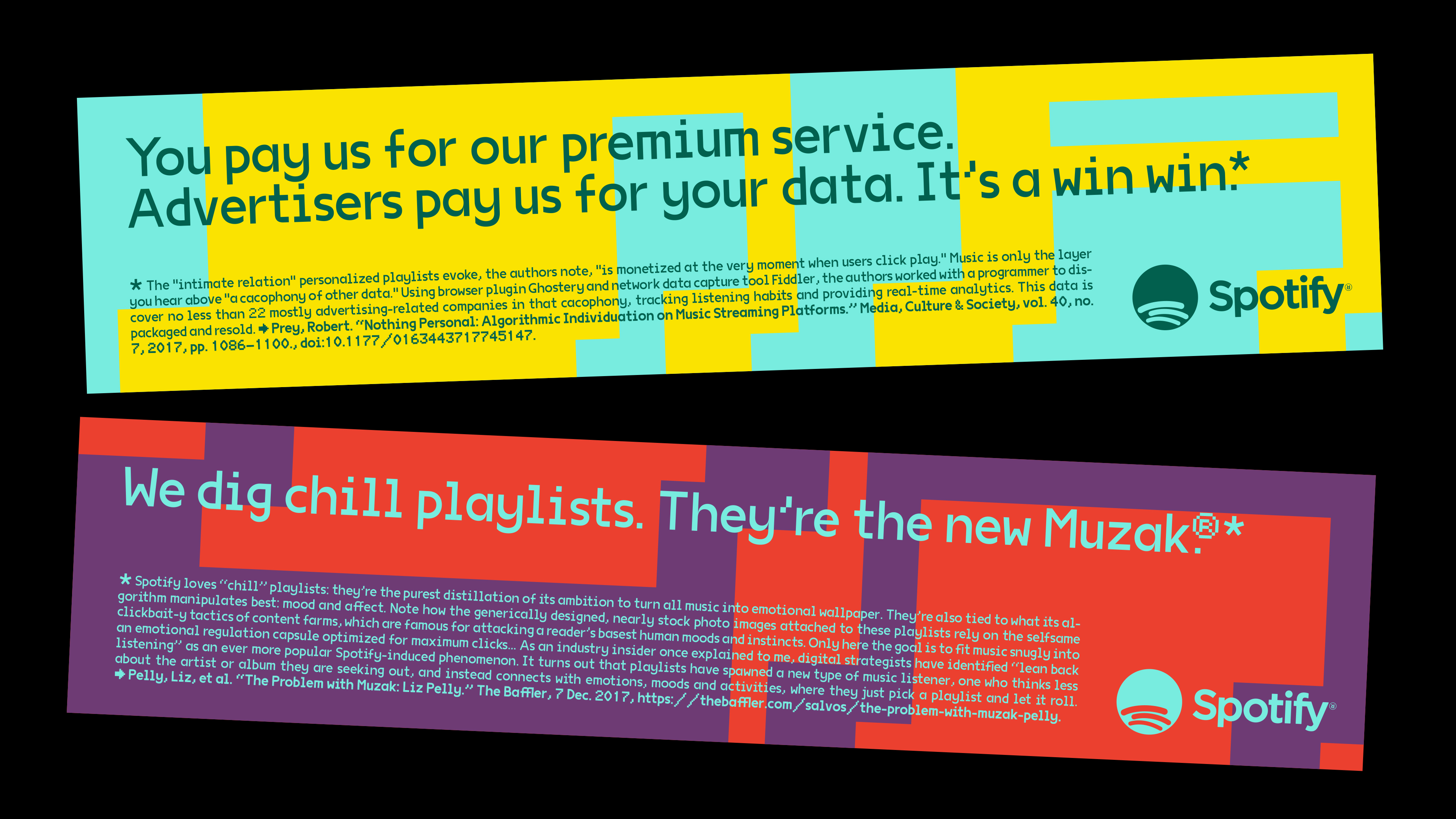 Ads created to make Spotify users question their relationship with the streaming service. All headlines are backed up with quotes pulled from academic journals and other articles. If you are interested in this topic, Liz Pelly has written a few pieces about it for
The Baffler
.
————— ————— ————— ————— ————— ————— ————— ————— ————— ————— ————— ————— ————— ————— ————— ————— ————— ————— ————— ————— ————— ————— ————— ————— ————— ————— ————— ————— ————— ————— ————— ————— ————— ————— ————— ————— ————— ————— ————— ————— ————— —————