Spring Semester 2020

————— ————— ————— ————— ————— ————— ————— ————— ————— ————— ————— ————— ————— ————— ————— ————— ————— ————— ————— ————— ————— ————— ————— ————— ————— ————— ————— ————— ————— ————— ————— ————— ————— ————— ————— ————— ————— ————— ————— ————— ————— —————
DES // 511 —— Advanced Design 2

DES // 512 —— Documentation Studio
DES // 520 —— Copy Shop
Workshop —— Basil.js
Workshop —— Art Book
————— ————— ————— ————— ————— ————— ————— ————— ————— ————— ————— ————— ————— ————— ————— ————— ————— ————— ————— ————— ————— ————— ————— ————— ————— ————— ————— ————— ————— ————— ————— ————— ————— ————— ————— ————— ————— ————— ————— ————— ————— —————


Throughout the course of this semester we have been required to choose and conduct research on a topic in order to dip our toes into the world of design research ahead of our thesis next year. The process has included brainstorming of multiple topics, selection of one topic, research into said topic, the writing of abstracts and emails (to thought leaders related to chosen topic) as well as formal design research. For this class I opted to research death and its relation to our digital lives. It is my thought that in doing this research I will be/have been able to create work that encourages individuals to think about how they exist in relation to the digital world by utilizing the lens of death/dying.
Fig 1: Initial research directions

Fig 2:
Initial mind map around selected topic created alongside initial research
Fig 3:
Select research
Fig 3:
Abstract written in order to put thoughts in regards to research on paper
Fig 4:
Midterm persentation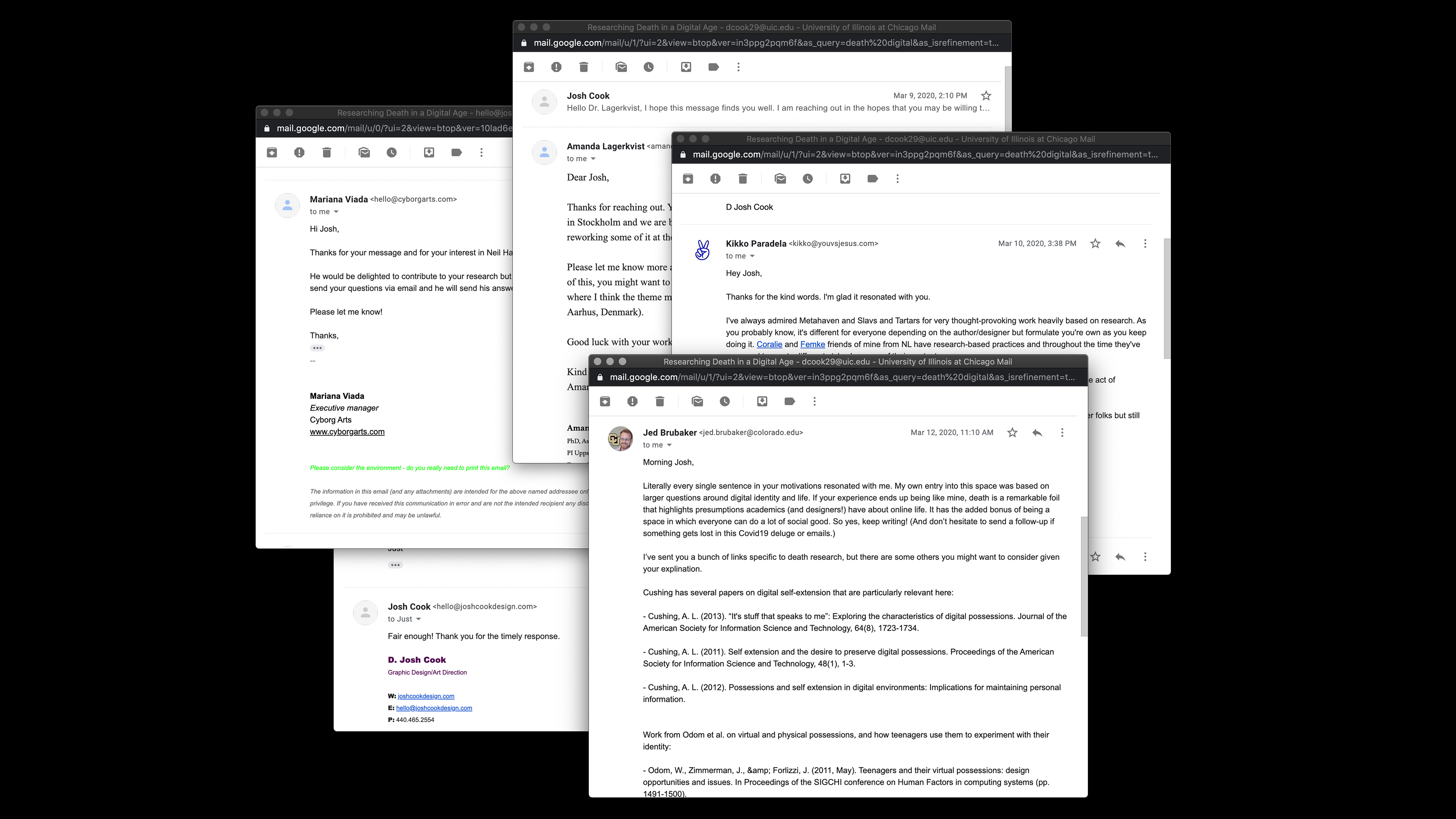 Fig 5:
Email written to professionals or thought leaders (
Jed Brubaker
,
Neil Harbisson
,
Amanda Lagerkvist
,
Kikko Paradela
, and
Just van Rossum
) in the hopes that they could help me further my research or reinforce ideas surrounding research
Fig 6–10:
Videos created to question (or to encourage others to question) data in relation to death
Fig 11:
Email written amidst a small panic attack related to the direction of my project
Fig 12:
Formal/typographic exploration created in relation to topic amidst a WIFI outage
Fig 13:
Pushing previous typographic explorations further through the creation of "digital memorials" that leverage the final Tweets (digital last words) of various celebrities.
Fig 14 & 15:
Process of creating digital memorial
————— ————— ————— ————— ————— ————— ————— ————— ————— ————— ————— ————— ————— ————— ————— ————— ————— ————— ————— ————— ————— ————— ————— ————— ————— ————— ————— ————— ————— ————— ————— ————— ————— ————— ————— ————— ————— ————— ————— ————— ————— —————