Fall Semester 2020
————— ————— ————— ————— ————— ————— ————— ————— ————— ————— ————— ————— ————— ————— ————— ————— ————— ————— ————— ————— ————— ————— ————— ————— ————— ————— ————— ————— ————— ————— ————— ————— ————— ————— ————— ————— ————— ————— ————— ————— ————— —————

Final Outputs
Learning Journal
————— ————— ————— ————— ————— ————— ————— ————— ————— ————— ————— ————— ————— ————— ————— ————— ————— ————— ————— ————— ————— ————— ————— ————— ————— ————— ————— ————— ————— ————— ————— ————— ————— ————— ————— ————— ————— ————— ————— ————— ————— —————
DES // 540 —— Research Studio
DES // 500 —— Political Ecology
DES // 520 —— Agathokakological Tendencies
————— ————— ————— ————— ————— ————— ————— ————— ————— ————— ————— ————— ————— ————— ————— ————— ————— ————— ————— ————— ————— ————— ————— ————— ————— ————— ————— ————— ————— ————— ————— ————— ————— ————— ————— ————— ————— ————— ————— ————— ————— —————


//Area of Interest//
My area of interest lies in subversive, outside or non-traditional forms of education and how they can inform or create a new mode of design education or self-learning/teaching. I am interested in this because I am unsure if education is/should be limited to the classroom and traditional ideals.

//Why I am Interedted in This Topic//
We are living through a blurring of classroom and home due to the pandemic and I wonder if there is an opportunity to expand places of learning because of this. I wonder if we can legitimize other modes of learning the practice of design both within and outside of the university. In addition to that, I wonder how technology, Creative Commons and peer to peer sharing of "classes/lessons" can democratize our practice in a way that makes it more inclusive. I am drawn towards Postmodernist and Brutalist graphic design because their ideologies were borne out of a reaction, or as alternatives, to Modernism and its restrictive ideals of beauty in often minimalist form servicing function. Postmodernist and Brutalist design ideologies are being taught at well-championed schools such as Cranbrook and Yale University, both private institutions. This leads me into thinking how aesthetics relates to sociology, politics and class. I think my aesthetic preferences stem from my own "educational lineage" leading me to question if these are things that I actually enjoy or if they are indoctrinated (hopefully the former). This has led me to wonder if design aesthetics are often tied to access to elite programs. As stated by Pierre Bourdieu, legitimate tastes are really just the tastes of the ruling class. In this case, the ruling class includes those who attended elite universities, pupils who studied with those who attended these universities, or those who, like me, have been captivated by these programs and their outputs.

//Methods of Pursuing This Topic//
So far, my methods of practice include developing strategies for the dissemination of graphic design education and information. For example, one work presents a vending machine offering affordable chapters or project lessons in DIY fashion. Another work presents a collared shirt printed with subversive messages and non-traditional images of graphic design, packaged with the caption information in a Course Catalog. One of my most recent works is a content randomizer or film-genre generator. The interactive digital tool generates two film genres randomly prompting letterform design based on the outputted genres. It is a process of design that is led by form and often vernacular as well as learning through mimicry.

//Why This Topic is Important//
Subversive, outside or non-traditional forms of education are important to the practice of design because they could allow for greater inclusion of those without access but also could be a tool for greater sharing of knowledge/ideas between programs within the system of graphic design higher education. Could peer-to-peer sharing of design education help elevate "lesser" universities in order to decentralize "good design" from historically championed design programs? Could this lead the practice to see more competition from all design programs? Could the creation of more non-traditional/outside schools lead to new ideas within the practice?

!! The Diagram, Catalog and Map projects were presented at Midterms. As such I would prefer that the discussion for finals be focused on new work instead of these projects. !!


Diagram


For the diagram project we were asked to analyze our topic of research (subversive education) through a selected item (pocket knife). I chose the knife because I feel like this is a good representation of subversive thought/education in that it can be both a tool and a weapon. The knife animates into the form of a flower in order to create something that is both beautiful and potentially unsettling (as well as hypnotic). The knife is surrounded by notes taken from both research and readings.

Click through these links to see the final version as well as versions one, two, and three.


Catalog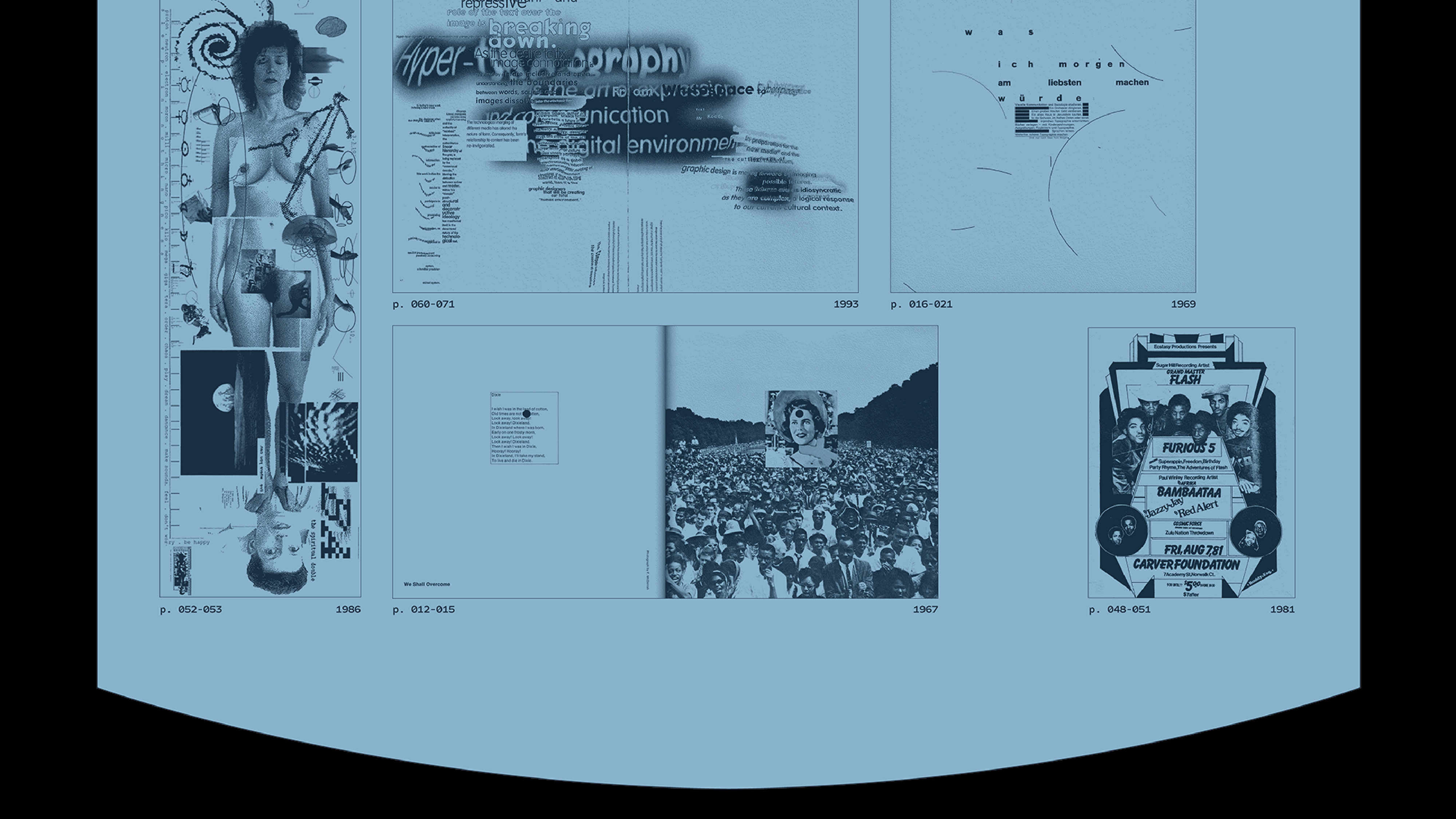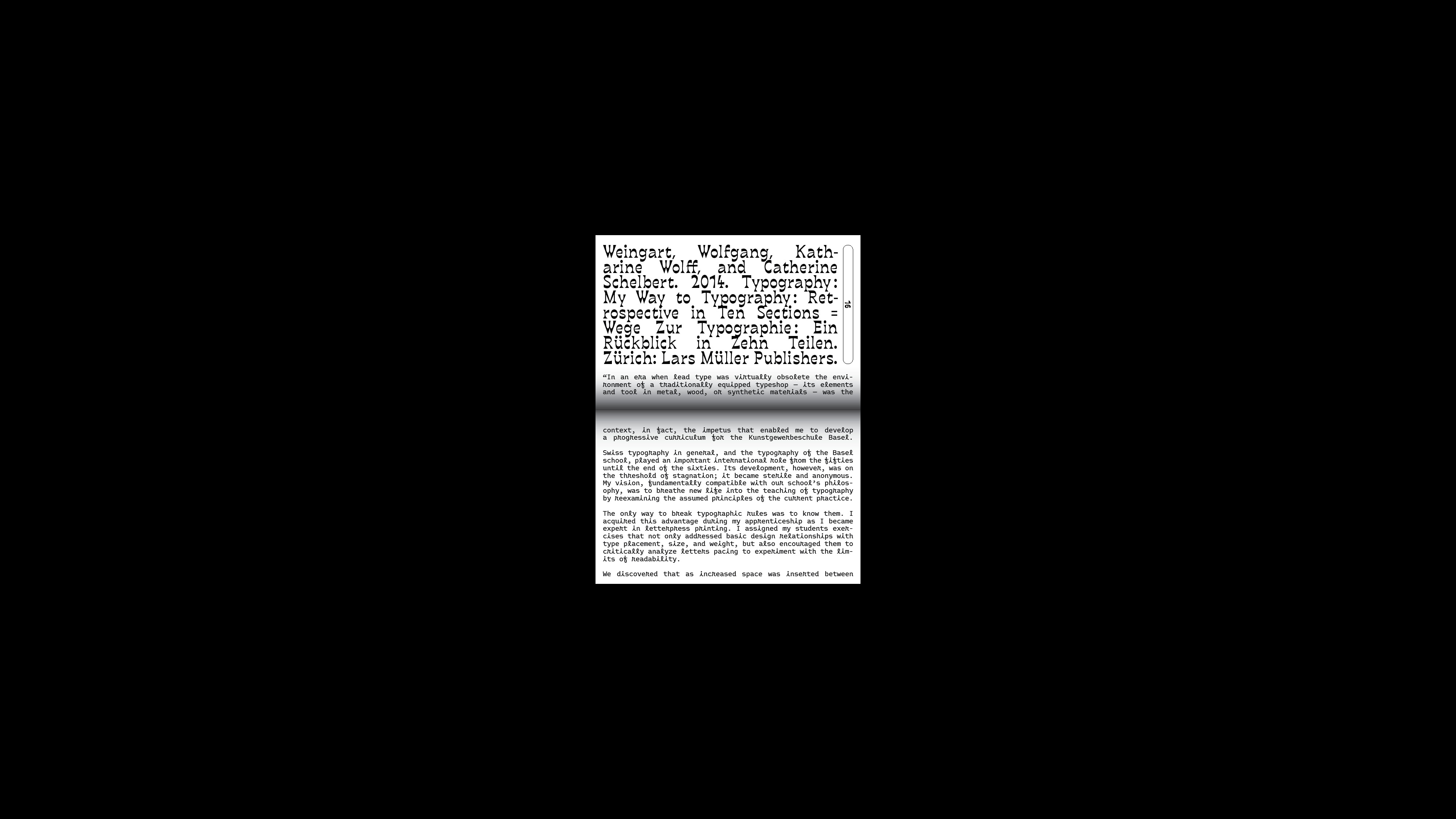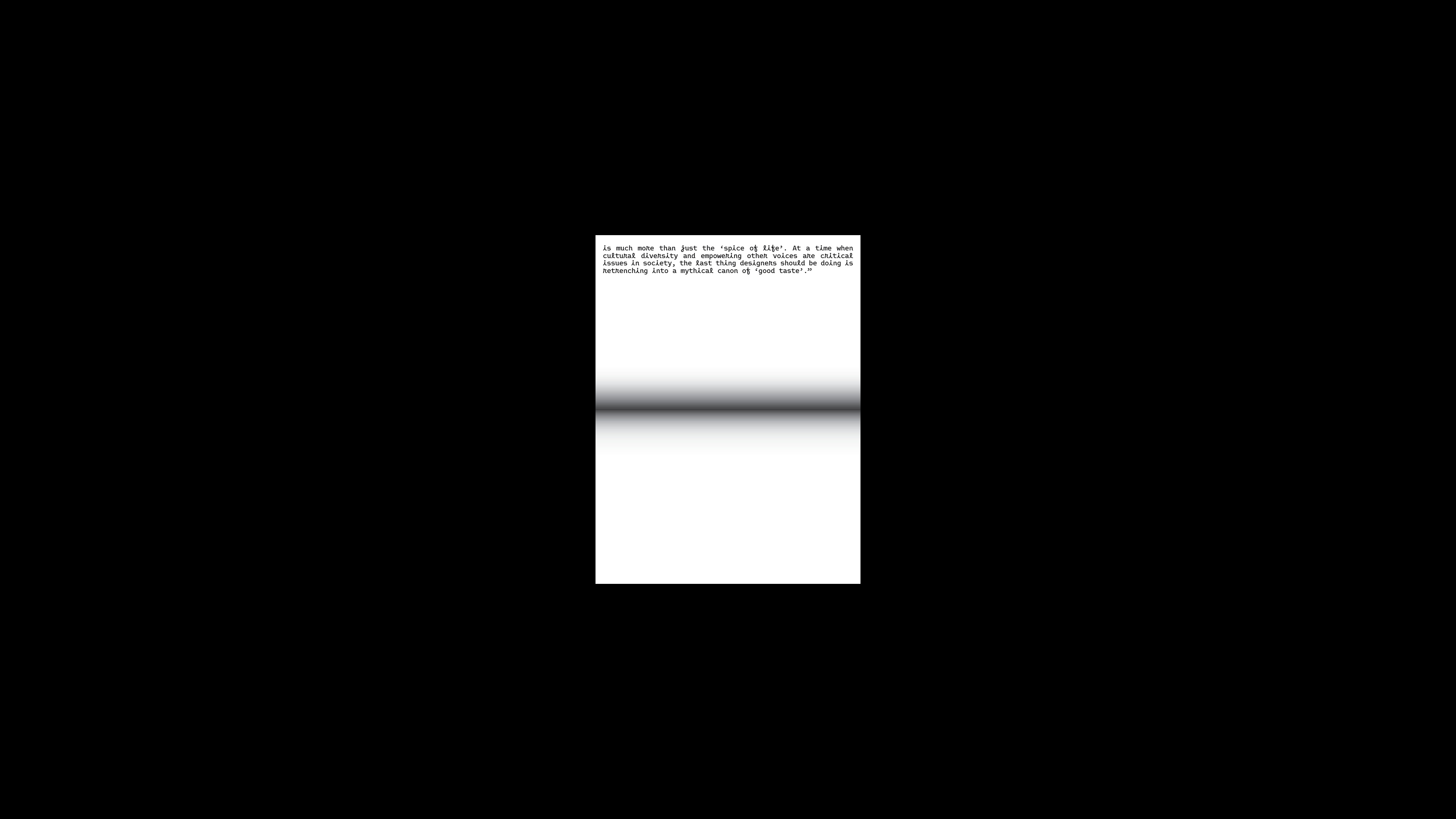 For the catalog project we continue to look into our topic of research. I chose to take a pass at analyzing ways in which new curriculums can be developed from post curriculums. I also chose to continue down a subversive path, this time attempting to subvert modernist education with something postmodern (something that is likey cliché at this point). In addition to the updated curriculum, I have included courses in the form of pieces of design and accompanying text that attempts to provide context beyond the visual form. This thinking stems from notions that works of design are often presented in a vacuum where they are reduced down to styles to be stolen. It is my hope that by including this context, each course offers a window into the ideas or historical implications that lead to the graphic/visual outputs. This also touches somewhat on a nonlinear ways of learning (an idea recently brought to my attention via Mindy Seu's guest lecture this past week).

I encourage you to choose a course, using the table of contents/shirt, and read the accompanying material using the slideshow above.


Map (abandoned)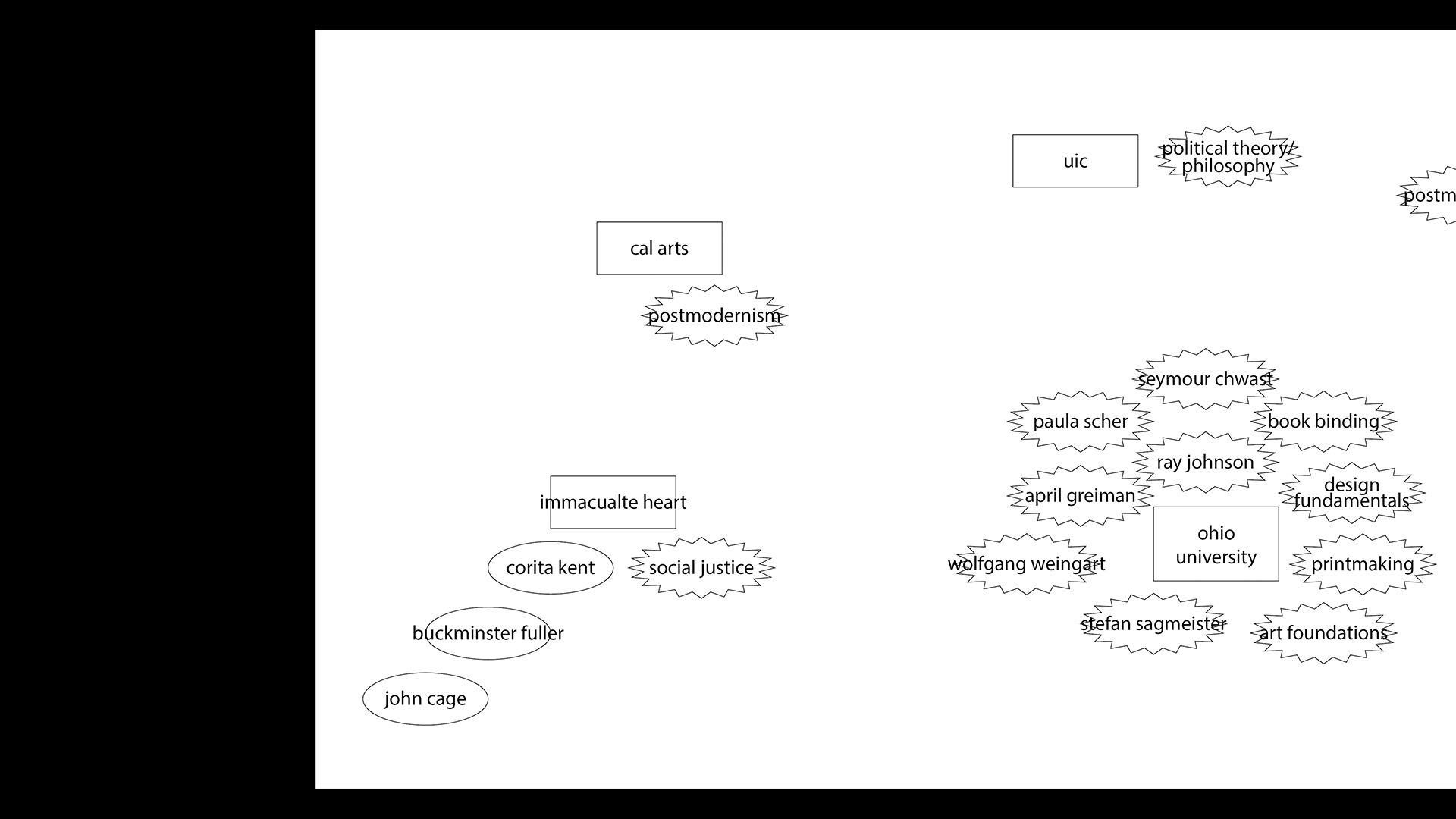 This map project was presented at midterms as a work in progress and was ultimately abandonded. At the time the shown visuals (slides 1 & 2) were created I was thinking about was of showing how ideas and methods of design production move between people and institutions. At midterm it presented as a loose (very loose) mind map, with the hope is that it will take the form of a family tree or a pedigree chart. The idea of tracking design lineage through these schools was scrapped bacuase I felt that it put too much emphasis on certain programs at the expense of others, thus creating or perpetuating an inequality of value within design education. Prior to abandoning the project I briefly looked into mapping "Outer Schools" as put forward by the Southland Institute. Those sketches can be seen in the DES 540 section of my Learning Journal.


Tangential Project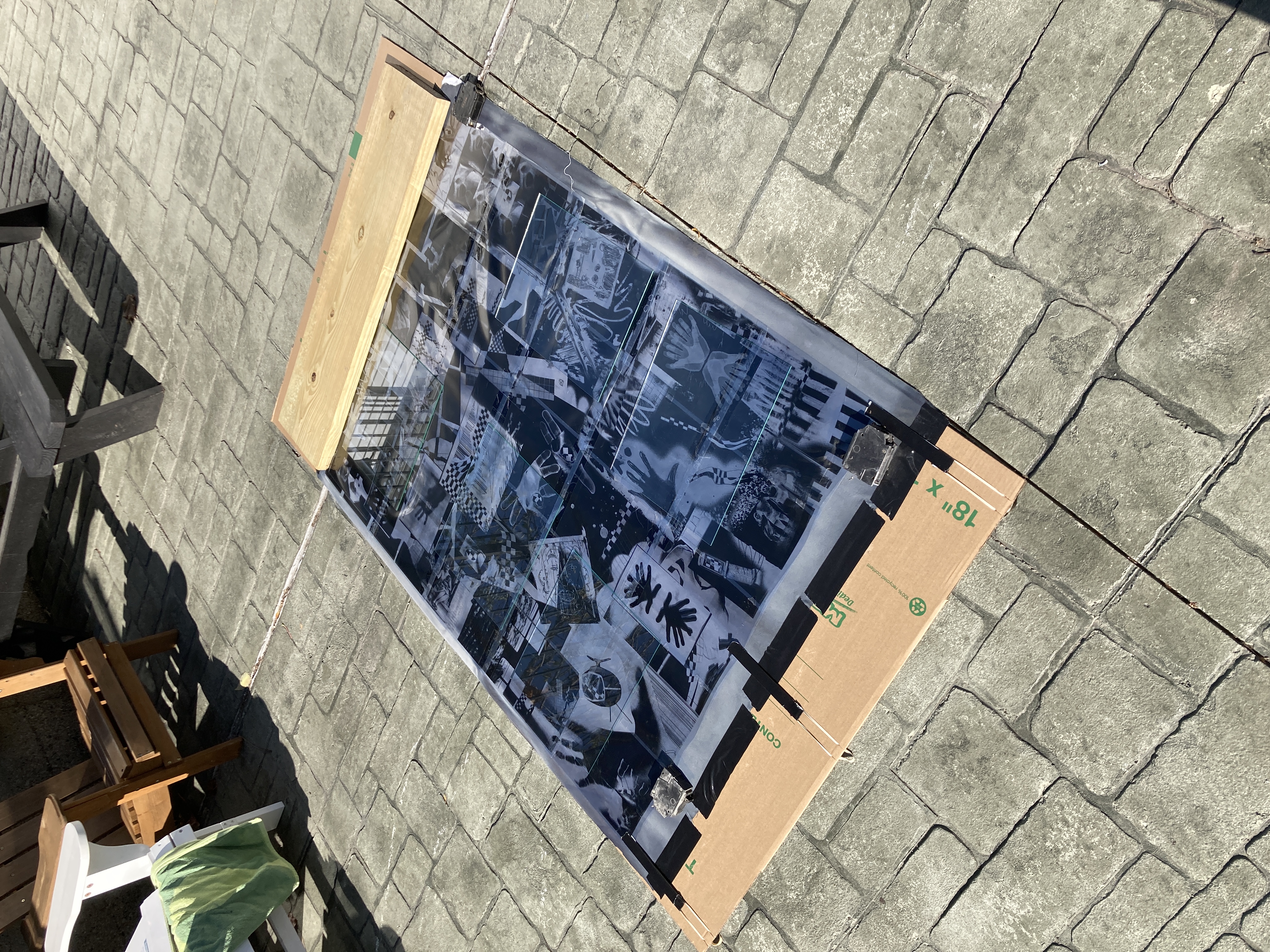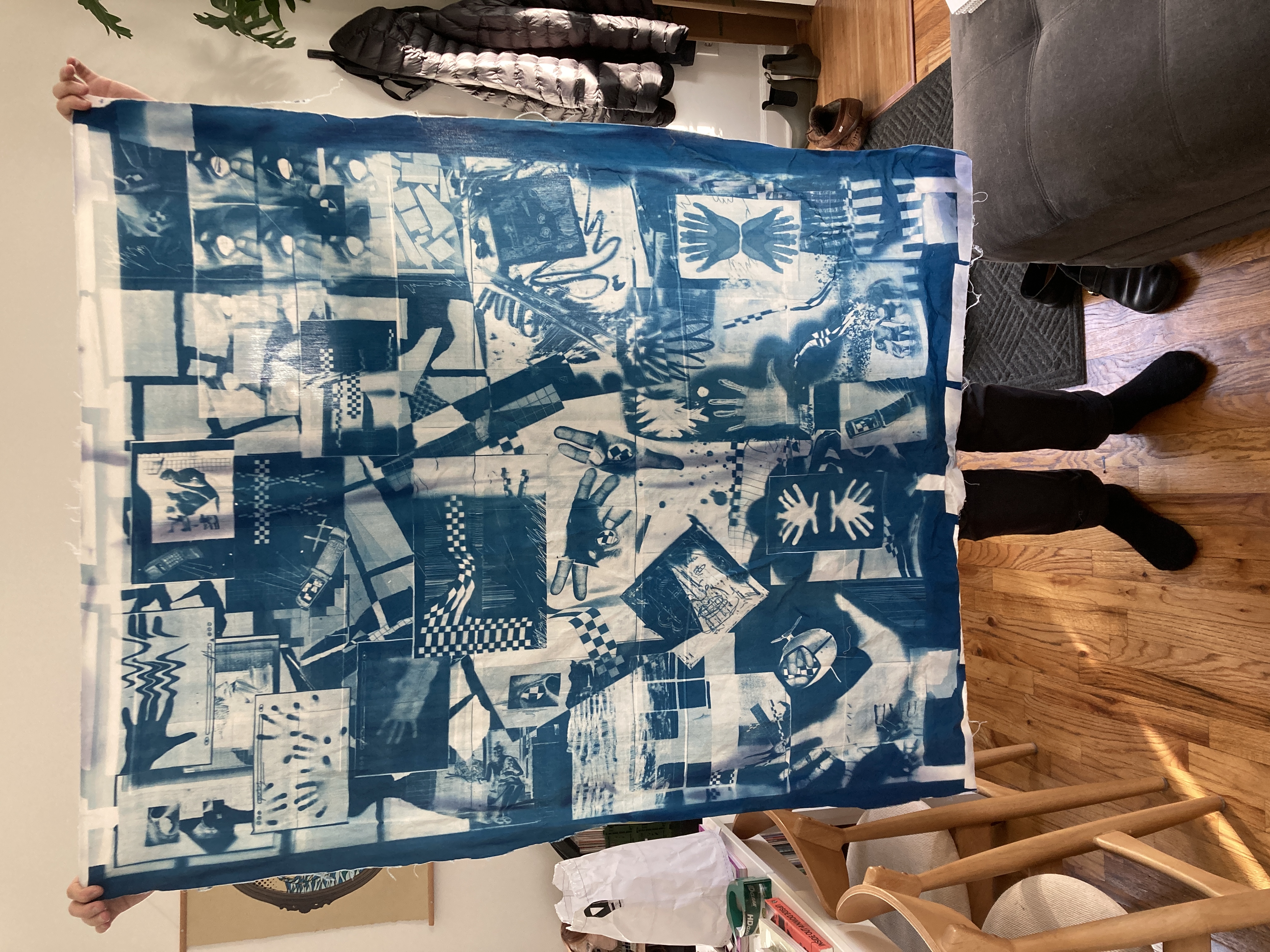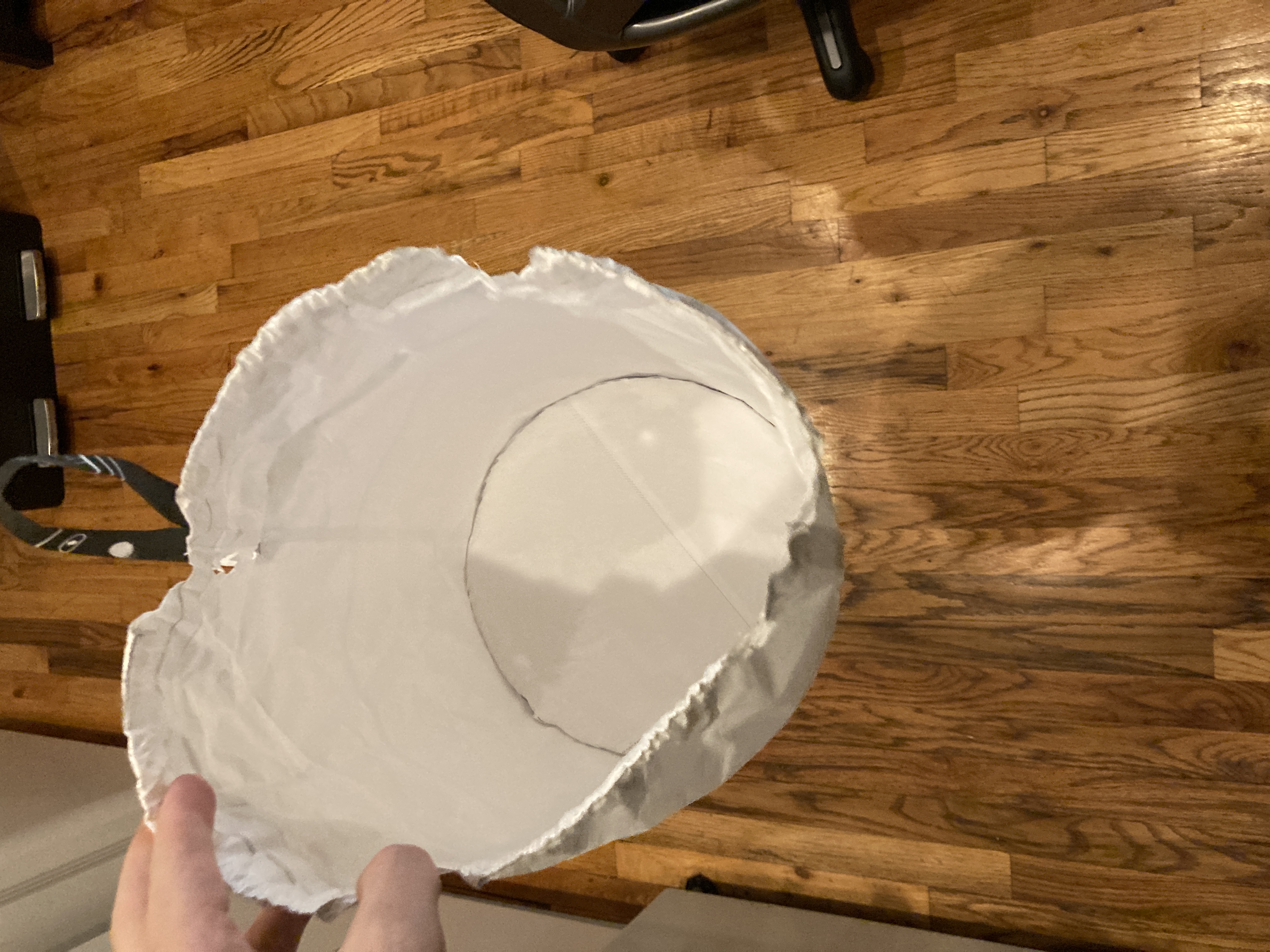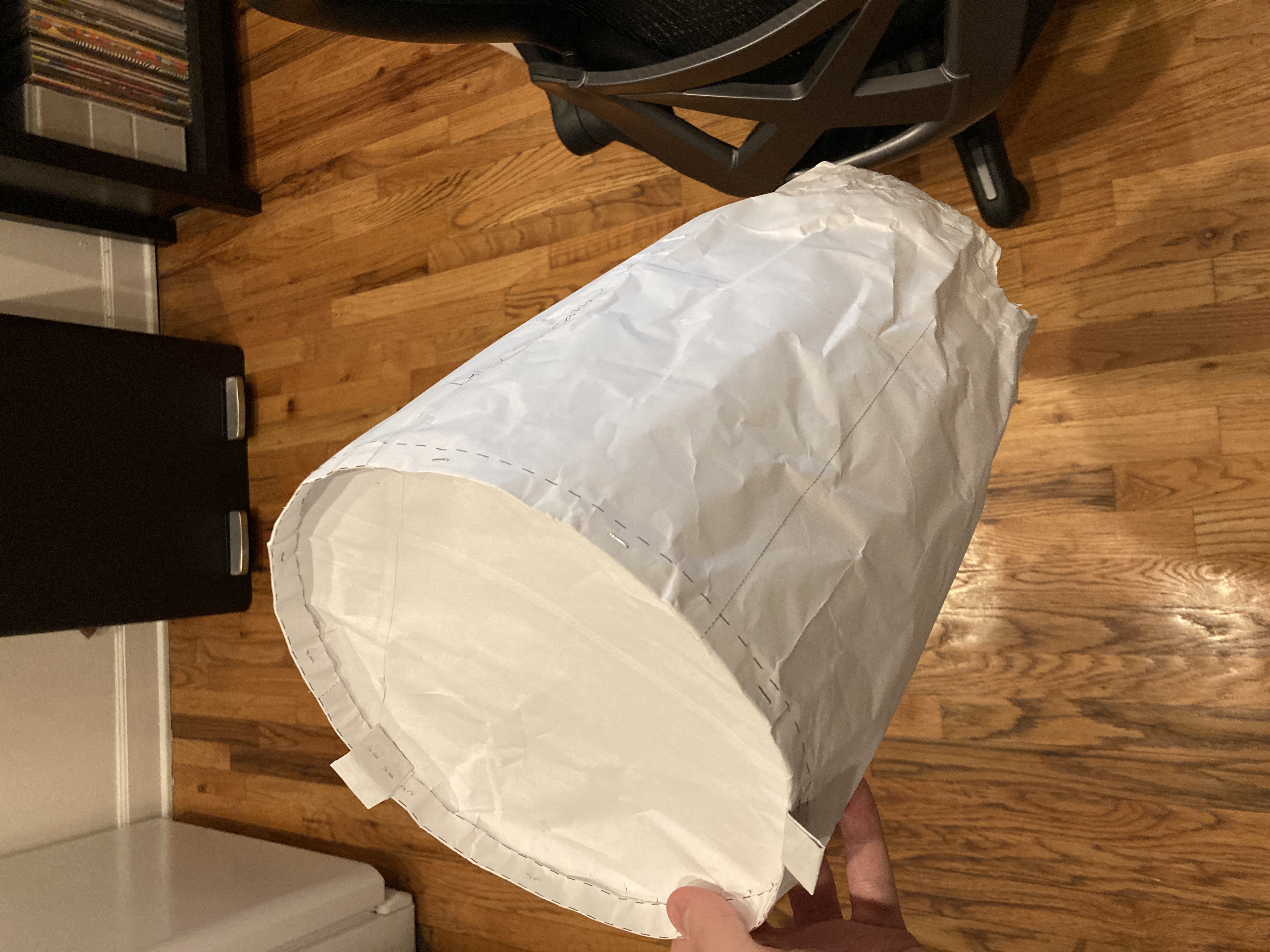 After feeling a little burnt out from the map project and the feeling of needing to intellectualize my work I opted to take a couple days to just focus on making. Show here are work in progress outputs from that exercise in the form of cyanotype printed fabric and patterns for a bucket bag/backpack that I intend to make over the holiday break.


Narrative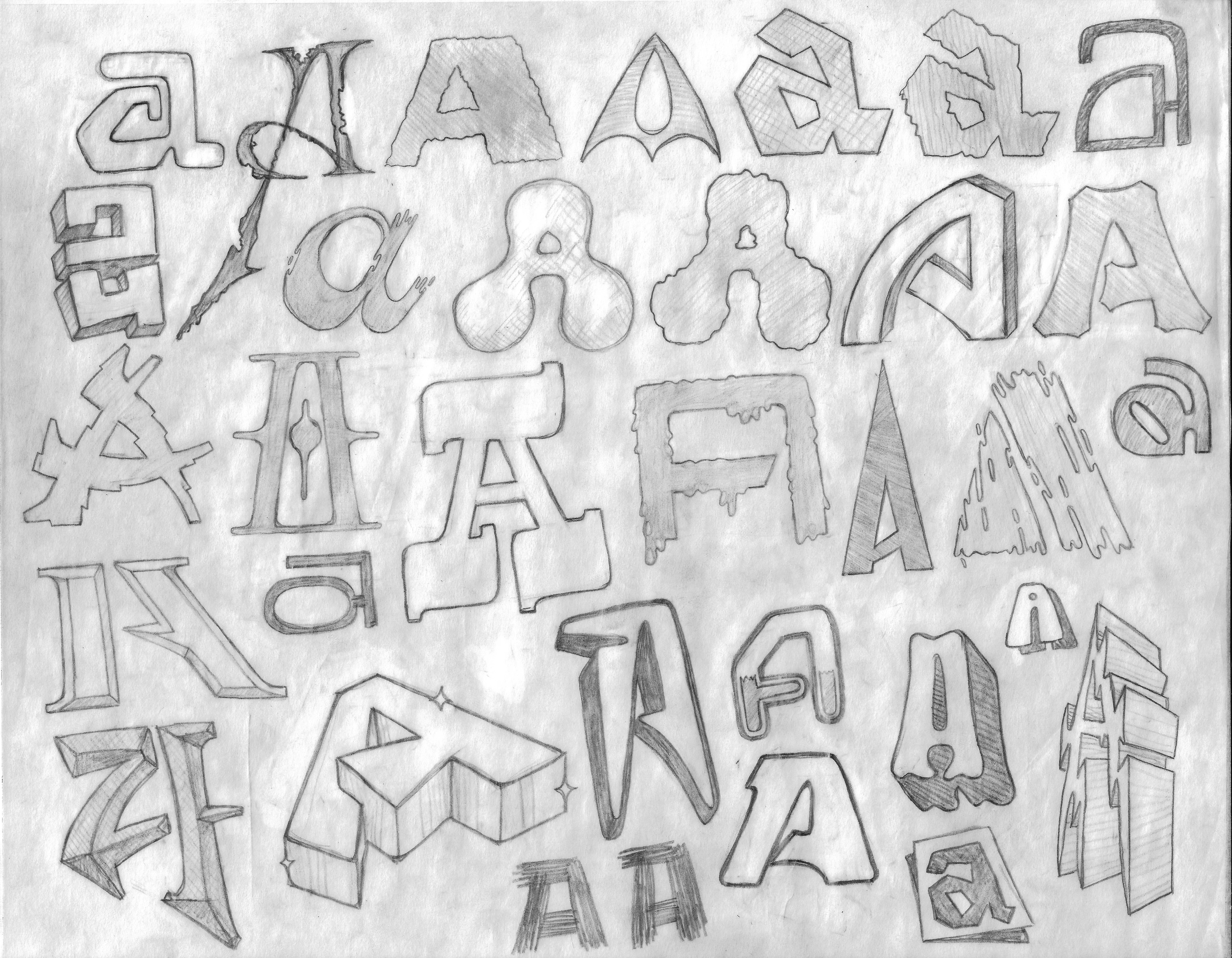 For the narrative project I opted out of creating a narrative to instead see how narrative impacts design. I wanted to analyze the relation that type has to narrative through the lens of film genres, as well as what could happen if you approached type design from this angle instead of a more traditional route. The letterforms were infromed by film posters from the various generes that were then combined into one mashed-up letterform. It is my feeling that this could relate to my topic in that it is one way in which a student could self-teach hand lettering. If this were to be pushed further I would consider ways of pushing it more towards type design than lettering, then again maybe that idea is informed by a learned bias that type design is superior to lettering. To try the mashup tool yourself click here.


Aphorisms
Vending Machine as School / School as Vending Machine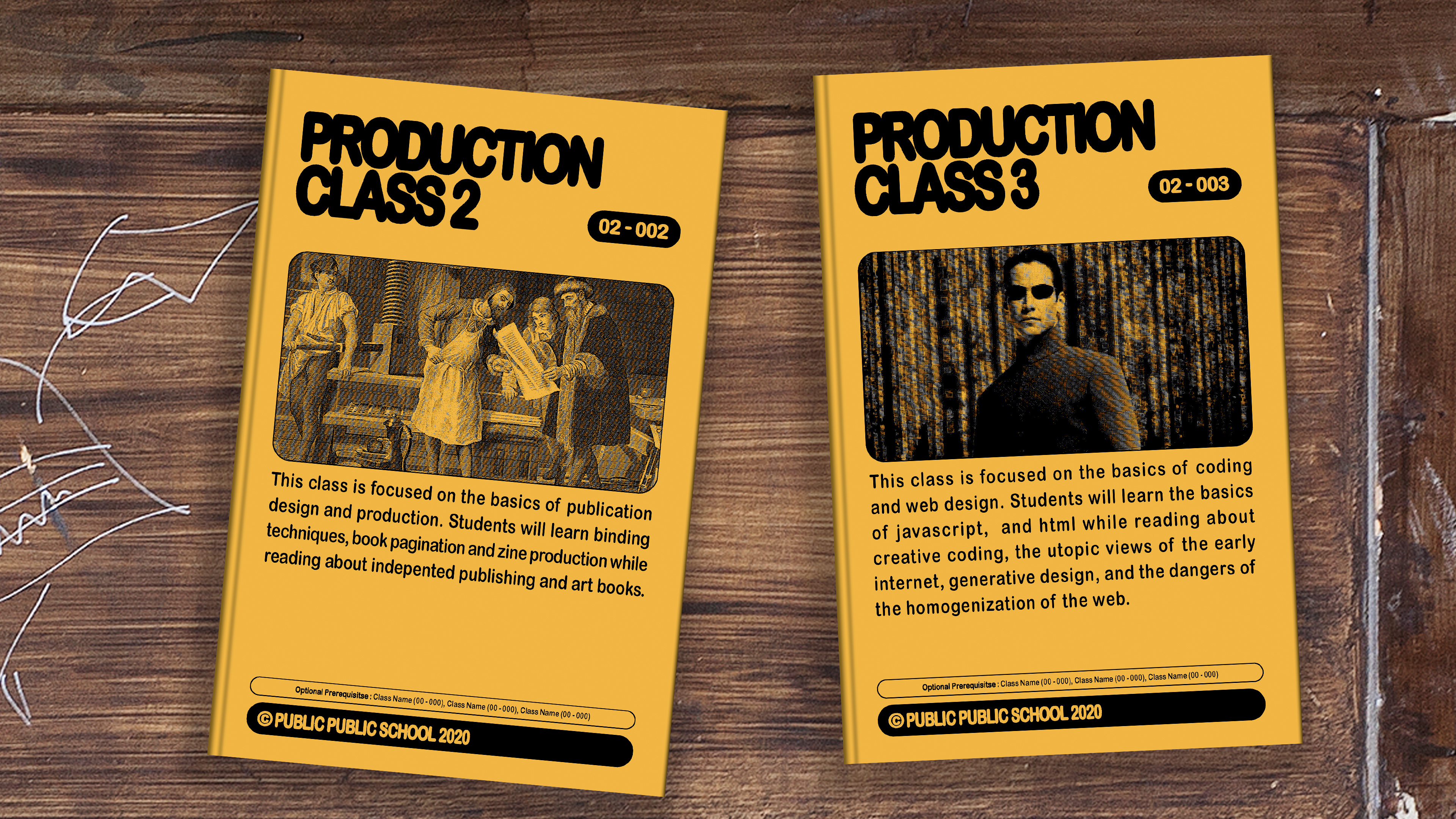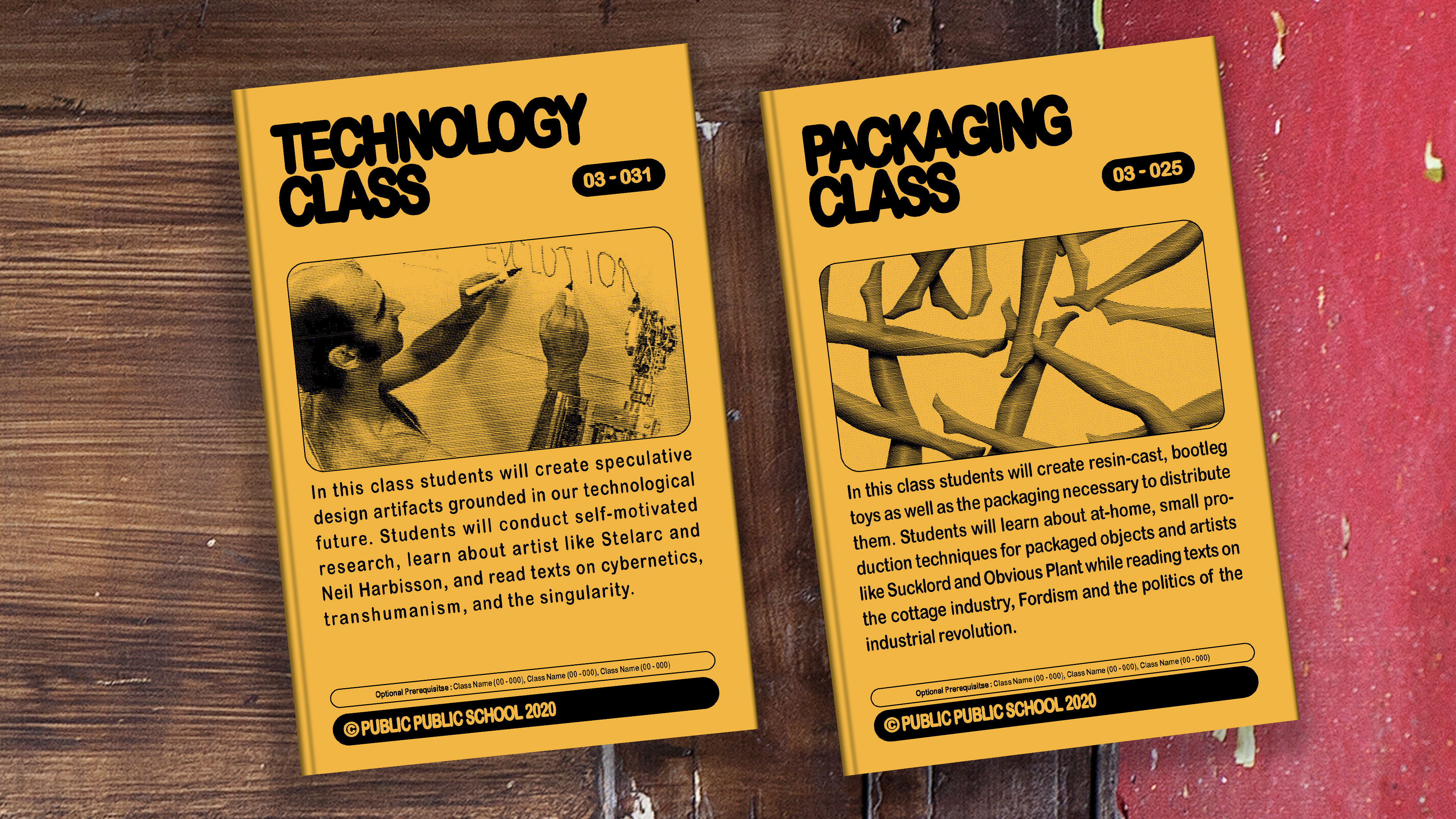 This project represents the fleshing out of an Idea initially had while working on the catalog project. Lately my reading, as well as discussions with my thesis advisor, have been focused radical pedagogy and thinking of how notions of emancipatory learning could be brought to life in design education as well as ways in which education could be democratized. All of which was swirling around in my skull while developing this project. The vending machine school seeks to question what it is that makes up the school. Is it the physical location and educators or is it just the content? What happens if you were to remove the content from the university and place it in the street? In addition to that I am attempting to create subversive or radical classes. Classes that can teach both design hardskills as well as a sharpening of critical thinking and inquiry.

————— ————— ————— ————— ————— ————— ————— ————— ————— ————— ————— ————— ————— ————— ————— ————— ————— ————— ————— ————— ————— ————— ————— ————— ————— ————— ————— ————— ————— ————— ————— ————— ————— ————— ————— ————— ————— ————— ————— ————— ————— —————