Spring Semester 2020
————— ————— ————— ————— ————— ————— ————— ————— ————— ————— ————— ————— ————— ————— ————— ————— ————— ————— ————— ————— ————— ————— ————— ————— ————— ————— ————— ————— ————— ————— ————— ————— ————— ————— ————— ————— ————— ————— ————— ————— ————— —————
————— ————— ————— ————— ————— ————— ————— ————— ————— ————— ————— ————— ————— ————— ————— ————— ————— ————— ————— ————— ————— ————— ————— ————— ————— ————— ————— ————— ————— ————— ————— ————— ————— ————— ————— ————— ————— ————— ————— ————— ————— —————
DES // 511 —— Advanced Design 2

DES // 512 —— Documentation Studio

DES // 520 —— Copy Shop
Workshop —— Basil.js
Workshop —— Art Book
————— ————— ————— ————— ————— ————— ————— ————— ————— ————— ————— ————— ————— ————— ————— ————— ————— ————— ————— ————— ————— ————— ————— ————— ————— ————— ————— ————— ————— ————— ————— ————— ————— ————— ————— ————— ————— ————— ————— ————— ————— —————


Input/Output

This publication is both a work of documentation (Input) as well as a work of generative fiction (Output). Throughout this project we were encouraged/required to use programs/tools that we were unfamiliar or uncomfortable using whether that be Google Drawing, basi.js, screengrabs or otherwise. This was done in order to encourage us to give up control and pursue a visual language(s) that would not have come into being had we followed more traditional modes of working. We were also required to produce the final publication through a print on demand service. This project is a work in progress and this small edition of books is on track to be completed in advance of the Chicago Artbook Fair next fall.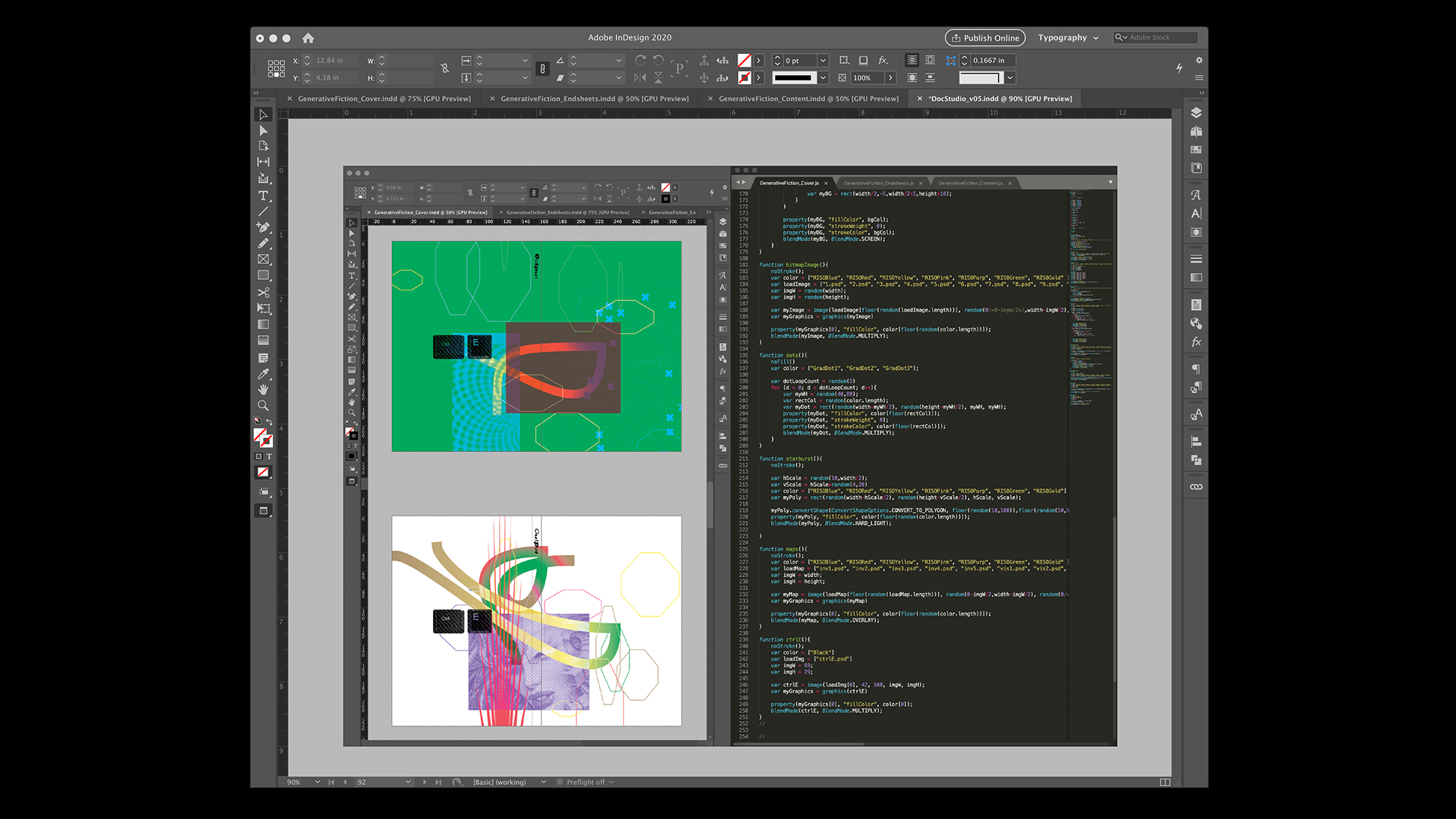 Fig 1:
The Input section attempts to document our class, the readings and all of the steps taken in order to gather/generate content necessary to produce the Output and was composed using only the iOS screen capture function. Click
here
to view full pdf.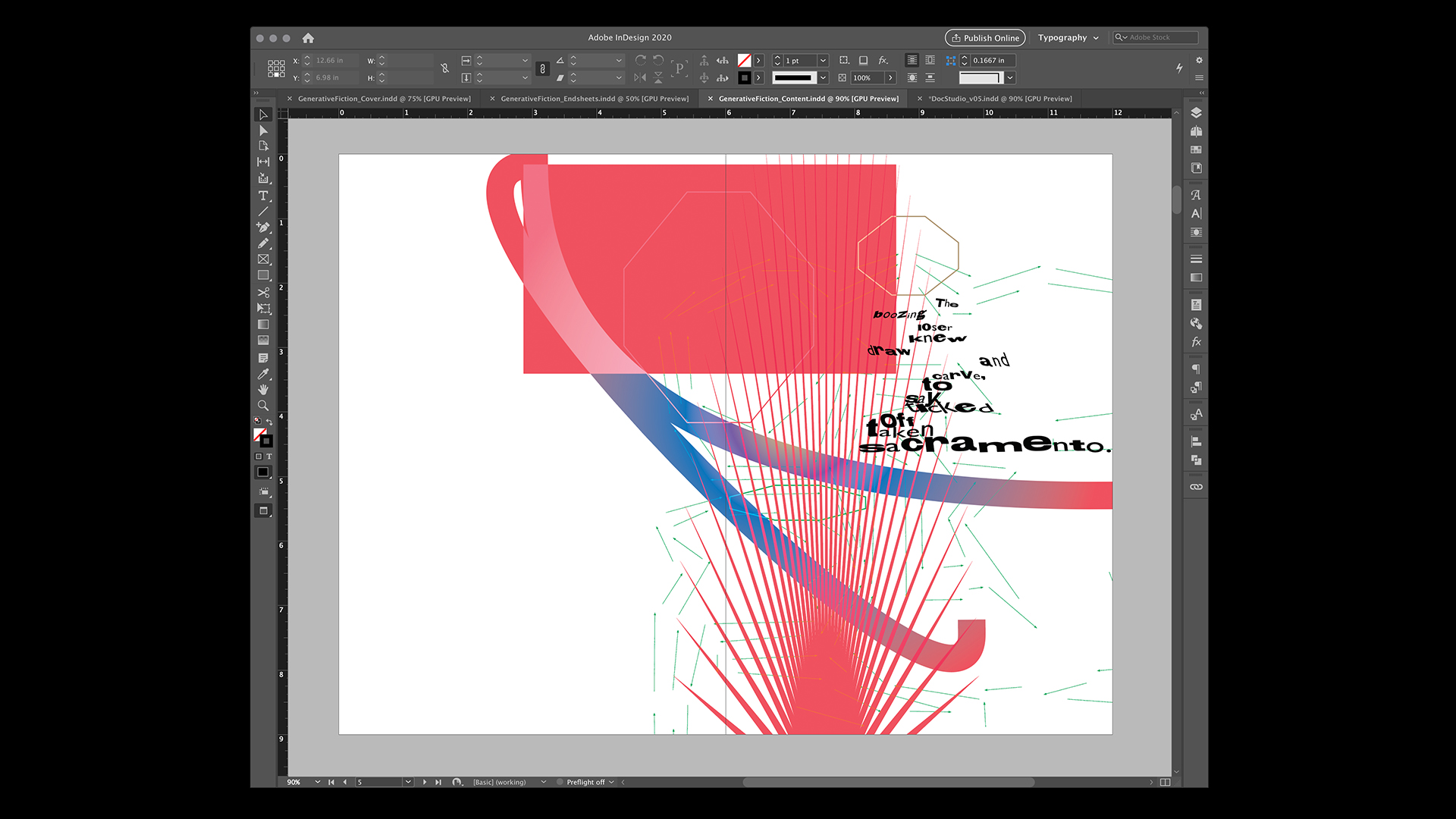 Fig 2:
The Output section was produced using basil.js and all of the various pieces parts generated throughout the class (documented in Input). This portion of the publication will be unique for each book in order to lean into the generative nature of basil.js. Click
here
to view full pdf example.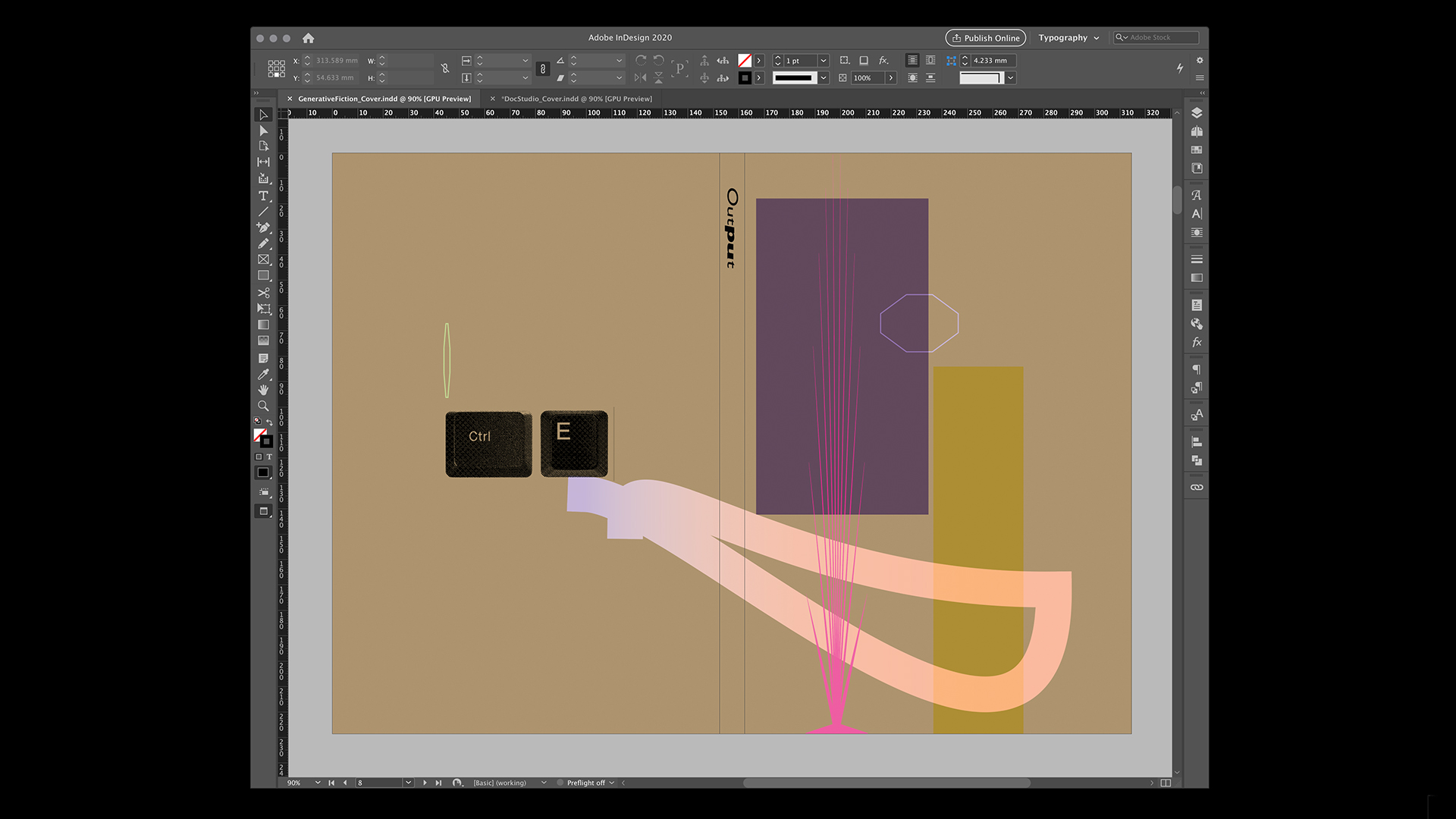 Fig 3: In order to embrace all that print on demand has to offer each book in the final edition will have a unique cover for both the input and output portions of the publication.
Fig 4: Both sections will be printed as separate US trade sized books via Lulu.com and then bound together by attaching the inner back cover of each to one another through the use of Gudy-O sheet adhesive.
As Not For

Exhibition design and installation of
As Not For
curated by
Jerome Harris
(exhibition poster by
Nat Pyper
). While we could have opted to just hang the work on the wall and call it a day, but we felt it was important to try and display the work in a way that felt elevated and authentic. It was our thought that after years of casting aside this section of the design vernacular it was important that we displayed in a way the felt arresting or in your face. We wanted to make sure the elephant in the room could not be missed.
[G]Mail Art

This project came into being around the same time as COVID-19. Our class was trying to think of ways that we could collaborate in an asynchronous way. One thought was leaning into Mail Art (think
Fluxus
or the
New York Correspondence School
), but since the mail has become a contagion point and because it has slowed way dow we ultimately opted into something similar but conducted online, GmailArt. In order for this project to work in a similar way to the NYCS we donned pseudonyms in the form of made up gmail accounts. We also each opted to create a set of parameters that would be sent out for our correspondents to follow ("please add to and return to Ray Johnson"). Each of us then followed the received parameters in order to design a 7"x5" postcard. This project is a work in progress as we intend the final product to be a publication of bound postcards with some sort of additional text (sourced or otherwise).
Reading Responses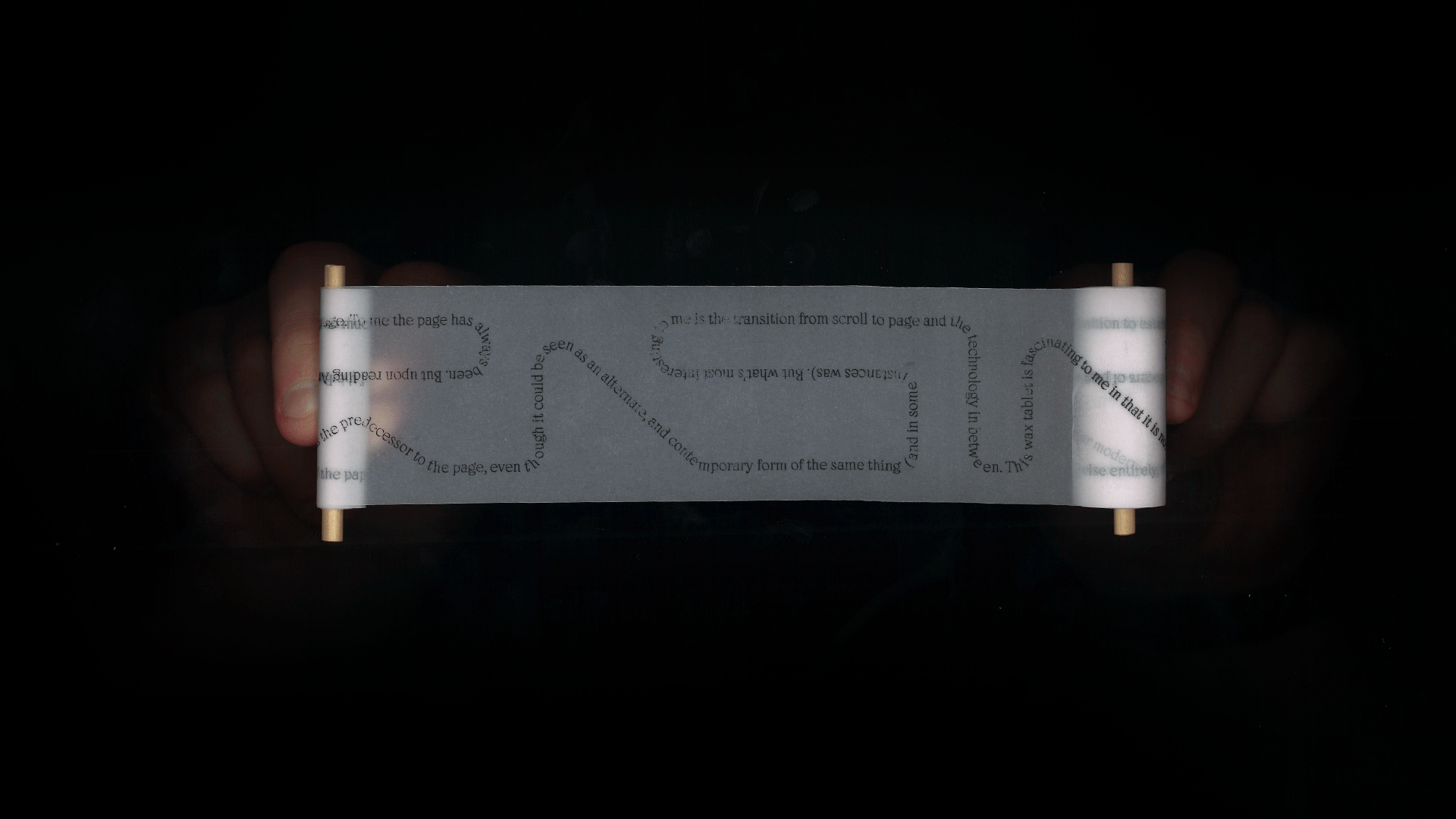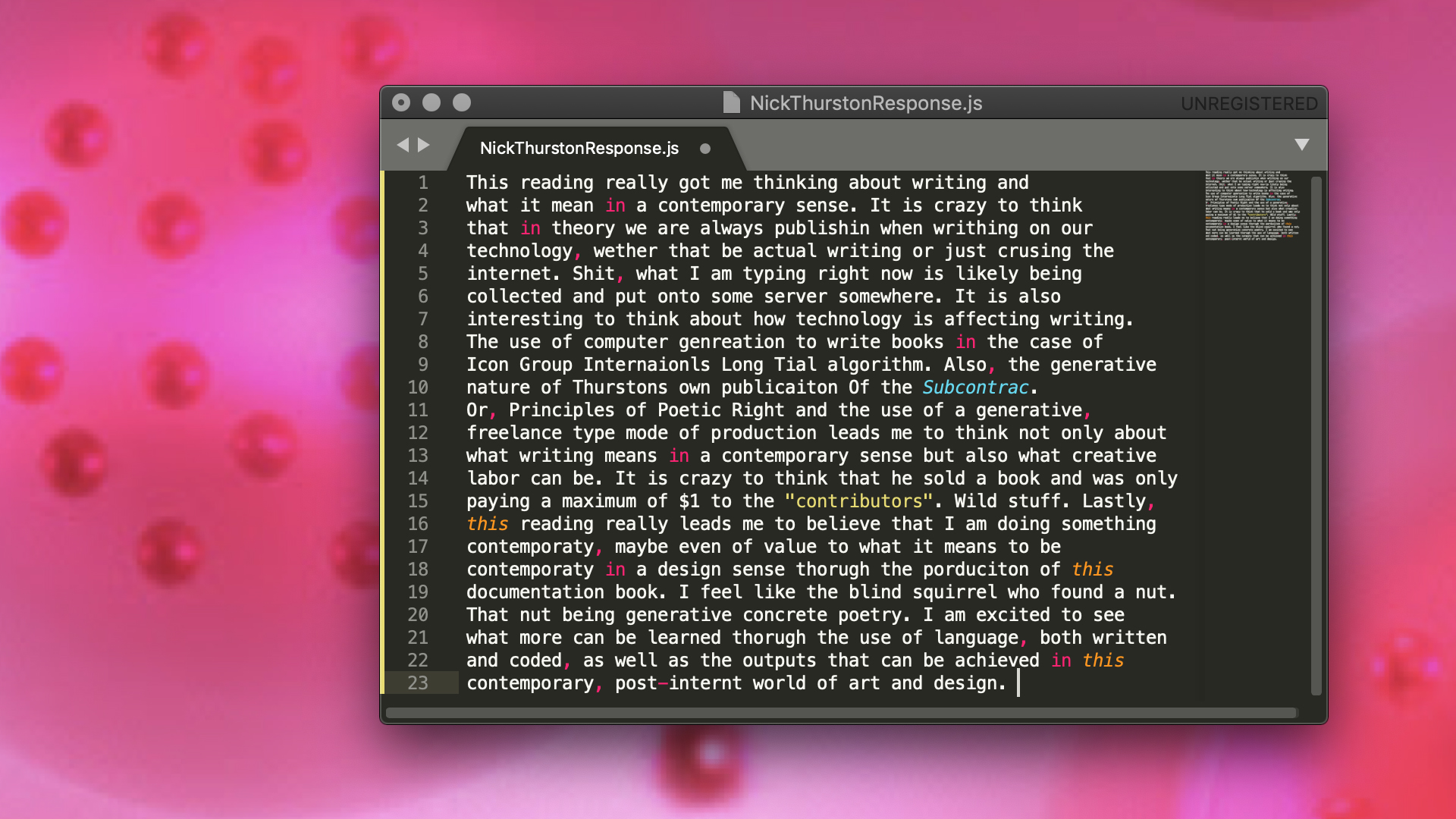 Collected reading responses to
Architecture Of The
Page by Bonnie Mak,
Paper Knowledge
by Lisa Gitelman,
The Mediatisation of Contemporary Writing
by Nick Thurston and
Mail Art: Networking Without Technology
by Seeta Peña Gangadharan.
————— ————— ————— ————— ————— ————— ————— ————— ————— ————— ————— ————— ————— ————— ————— ————— ————— ————— ————— ————— ————— ————— ————— ————— ————— ————— ————— ————— ————— ————— ————— ————— ————— ————— ————— ————— ————— ————— ————— ————— ————— —————